HydraFacial MD - Vortex Technology
The HydraFacial MD treatment is cutting-edge in non-laser skin resurfacing. It is the only hydradermabrasion treatment that simultaneously integrates cleansing, exfoliation, extraction, hydration and antioxidant protection, resulting in clearer, glowing skin with no discomfort or downtime. Furthermore, it can be performed as a standalone treatment. Our customized serums can also be added to enhance your treatment results. In addition, Hydrafacial MD combines the benefits of facial skin exfoliation and LED light therapy to improve the skin's overall health and appearance.

4-in-1 technology: Vortex-Cleansing™, HydroPeel® Exfoliation, VortexExtraction™, and Vortex-Fusion®

Provides immediate results without downtime.

Effective for oily, ethnic, thin, sensitive and aging skin.

Promotes overall skin health.

Used for sun damage, uneven skin tone, hyperpigmentation, fine lines and wrinkles, dry or dehydrated skin, oily/congested skin, and enlarged pores.
The HydraFacial MD uses three modalities: exfoliation, suction and infusion of serums. The exfoliation and suction lift remove dead skin cells and debris from the skin/pores. The serums used are clinically formulated to target specific skin conditions, including fine lines, uneven skin tone and texture, clogged or enlarged pores, acne and redness due to flushing or rosacea. In addition, LED light therapy promotes wound healing and human tissue growth.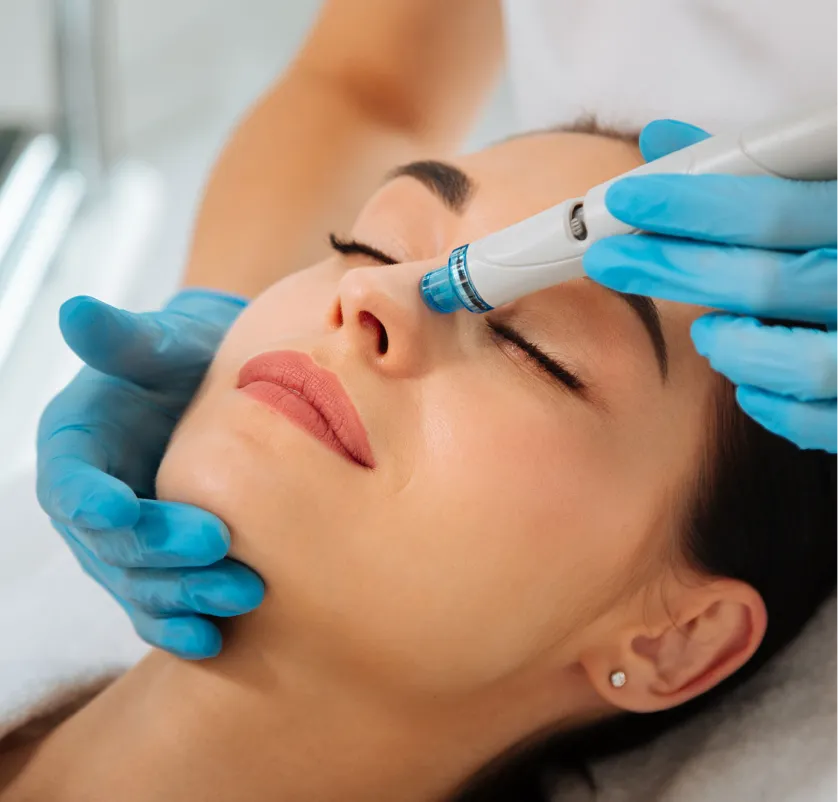 Features of HydraFacial MD
HydraFacial Elite MD is equipped with features that make treatments more efficient and luxurious at the same time. This facial treatment gives patients smoother, softer, and brighter skin. It draws out impurities while providing hydration into the skin. In addition, HydraFacial Elite MD comes with handpieces and serums that can rejuvenate skin. This three-step system leaves skin glowing and younger-looking.
Its HydroPeel tip hydrates the skin with nutrient-rich solutions, deeply cleanses the pores and softens and lifts away impurities.
Its patented HydroPeel tip has multiple abrasive edges that exfoliate the skin many times each pass to acquire better, even resurfacing results without irritation.
The vortex effect is created to easily dislodge & remove blackheads, whiteheads, and sebum, allowing for quick and painless extractions.
The unique spiral design Vortex-Fuses™ hydrates skin solutions and potent antioxidants into the skin, improving the appearance of hyperpigmentation, oily skin, fine lines & wrinkles.
Hydra Facial MD Dual Modalities
HydraFacial Elite MD comes with a dual-function handpiece designed for ease of use. The handpiece comes with a flow valve that controls serum flow. The ideal setting for the handpiece is 40%. Serums are stored in the machine-enclosed space, preventing contamination. Liquids flow right into the valve through cables.
HydraFacial™ Cartridge Handpiece
The sleek, patented cartridge handpiece allows you to achieve higher profitability by interchanging speciality solution vials to up-sell each treatment. It enables you to incorporate new ingredients and solutions from Edge so you always stay competitive. The vials are convenient to use and compact to store.
Perform exfoliation on rough skin areas while bathing the skin with enhancing solutions. Diamond-embedded tips are autoclavable and come in various grit sizes for different skin areas and conditions.
LED light handpieces are also available as additional accessories. There are two handpieces of both blue and red LED lights, which emit wavelengths that penetrate the deeper layers of skin. Blue LED lights target acne-causing bacteria to reduce and prevent a breakout. On the other hand, red LED lights address redness and skin aging signs.
What makes HydraFacial Elite MD unique is its hydrating serums and anti-ageing boosters that nourish and protect the skin. These serums and boosters deliver active ingredients and hydration that leave skin soft, supple, and glowing.
Meet Sasha Hydra Facial Md Device
Our goal is to help support you in a balanced lifestyle. A quick, effective procedure, HydraFacial MD, can be completed in as little as 30 minutes. In addition, this procedure has no downtime, so you can immediately put on makeup and resume your regular activities.
We also offer free 15-minute LED light therapy after every HydraFacial MD treatment as an additional benefit to your care. With the aid of nourishing serums that are sealed in by the LED light treatment, your skin boosts oxygenation, blood flow, and smoothness.
Sasha is not just improving the appearance of our client's skin but restoring youthful, healthy skin. We provide the proper treatment for every skin type and every skin condition.