Top Doctors of South India 2022
Top Doctors of South India 2022 Outlook Magazine Features
Dr. Sanjay Sakhamuri and Dr. Navya Chowdary
Congratulations are in order for our best celebrity doctors Dr. Sanjay Sakhamuri and Dr. Navya Chowdary, who has been included in the top Doctors of South India 2022 list published in the October issue of Outlook monthly magazine. 
Top Doctors of South India are selected each year by a research firm as a result of positive peer recommendations, patient testimonials, and professional achievement. The magazine presents those with the highest scores for their expertise and consistent professional excellence. This listing is derived based on a peer survey of consultant doctors in the South conducted by outlook, which is then reviewed by the staff of Neb Media and a final listing is generated and presented here. This special edition features the best clinicians in the diverse field of medicine from Southern states. 
We are also proud to announce that Dr. Navya and Dr. Sanjay have again been named by their peers for inclusion in the best celebrity Doctors list. In addition, they are one of the few experienced dermatologists and cosmetic surgeons in Hyderabad who are regularly featured in top magazines such as Hans India and WOW! Hyderabad, which is subscribed by millions. Leading Indian newspapers and magazines also invite Dr. Sanjay and Dr.Navya for advice and tips.
Meet our best Celebrity Cosmetic Surgeon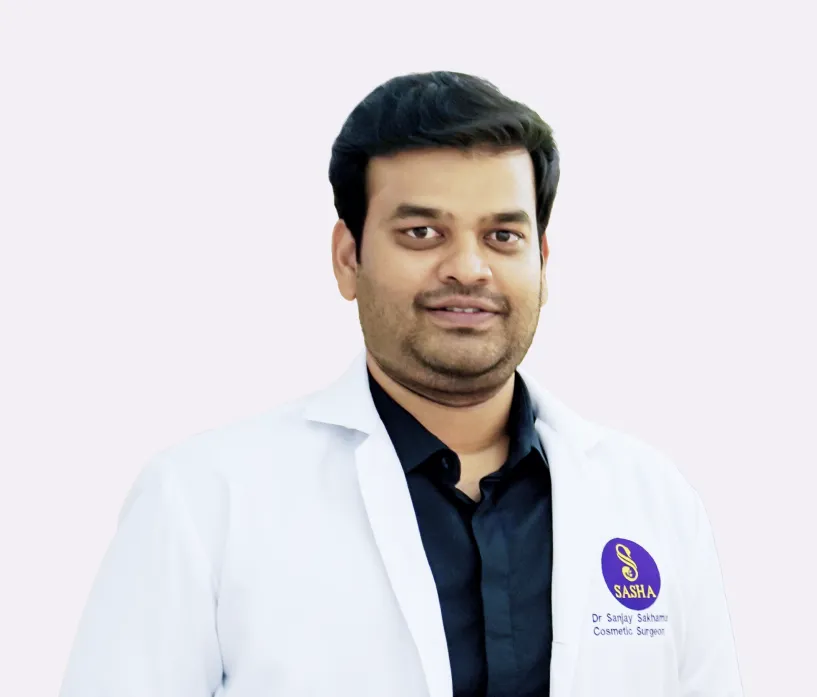 MBBS, MS General Surgery Advanced Fellowship in Cosmetic
Surgery (Facial & General)
Dr. Sanjay Sakhamuri is an internationally trained aesthetic cosmetologist with over a decade of experience and is considered the best by most of his clients. He is trained for both surgical and non-surgical interventions, which will take years off your face and give you the stunning body you have always wanted. He has won numerous awards in his field and expertise, further validating his excellence in Hair Transplant and his excellent choice in Hyderabad. 
Dr. Sanjay is popularly known as an advent treatment provider among his patients who travel worldwide to seek his expertise. He specializes in today's most modern and successful hair transplant technique – the DHI (Direct Hair Implantation) method. He also offers years of experience in the FUE (Follicular Unit Extraction) technique. At Shasa, we use the Choi implanters for hair transplant surgery with DHI, one of the most innovative and effective techniques.
Dr. Sanjay is the most sought-after cosmetic surgeon amongst the Tollywood to Bollywood celebrities because of his ability to understand the patient's need, artistic hand, meticulous execution and constant delivery of unmatched results. He has a keen interest in facial aesthetics and specializes in performing Dermal fillers and Botox. In addition, Dr Sanjay is well known in the city for his unique style of Non-Surgical Facelift, aka Thread lift. 
Undoubtedly, the best cosmetic surgeon in Hyderabad, he has performed more than 1100 successful cosmetic surgeries, including face, and body contouring, Hair Transplants, and ear reconstruction. With years of experience, Dr. Sanjay is the best cosmetic surgeon and offers patients desirable results.
Meet our best Celebrity Dermatologist
Co-Founder of Sasha – Luxe Dermatology and Cosmetic Surgery Center MBBS, MD DVL Cosmetic Dermatologist & Trichologist
There are many dermatologists in Hyderabad but what sets Dr.Navya Chowdary apart and makes her amongst the best dermatologists in Hyderabad is the fact that she uses the world's best and latest technological advances to give the most natural-looking results. Dr. Navya Chowdary is a celebrity dermatologist and leading expert in aesthetic treatment. Regarded as one of the top dermatologists in Hyderabad, she has over 10 Years of experience beautifying people of various ethnicities. 
Having completed her Clinical rotations in the field of dermatology in Texas, the United States, Dr Navya is acquainted with the latest techniques in skin care. She is especially known for issues like acne scars, acne vulgaris, hair loss, and so on, and services for face and body contouring, and laser treatment, all of which are offered in her clinic, all in one place with the best output.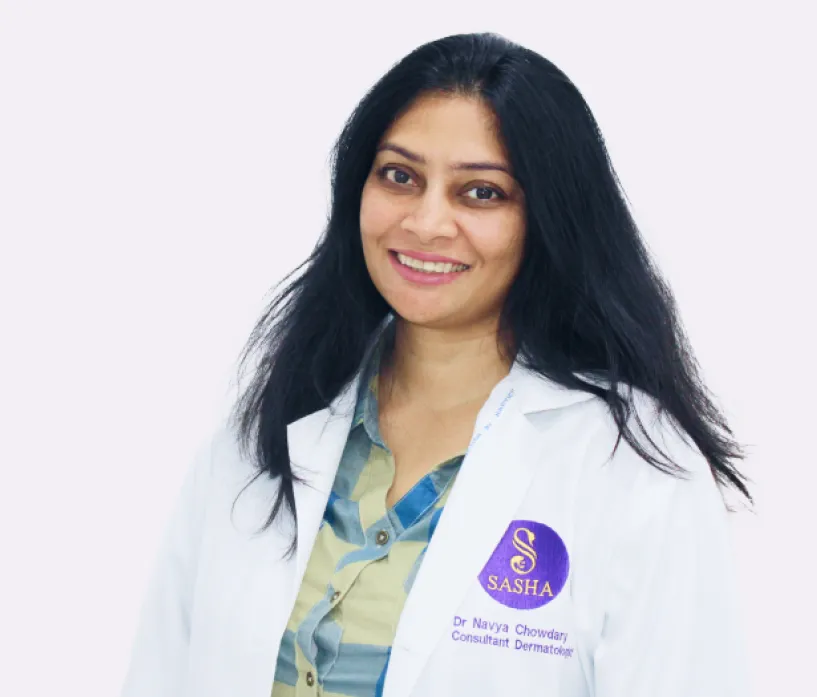 Dr. Navya is incredibly passionate about offering quality skin and hair care. Moreover, she believes in precise diagnosis, effective treatment, and tailored care. She specializes in general and cosmetic dermatology, focusing on acne, filler pigmentation, body sculpting, laser hair reduction and anti-aging treatments.
She believes in understanding the root cause of the disease and helps patients fight them with utmost ease and minimal medication. Her expertise has brought in more than 1100+ successful stories of acne, pigmentation, botox, numerous successful aesthetic procedures and still counting.
She has gained the trust of various leading celebrities who vouch for her for skin or hair problems. 
Dr.Navya's Special Interests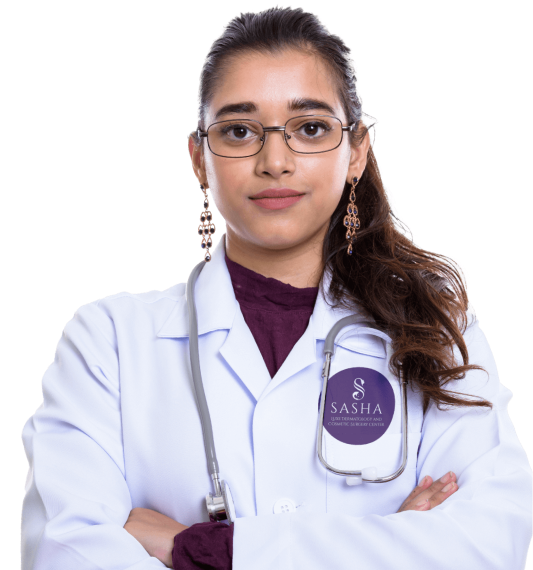 If you decide to undergo any cosmetic enhancement procedure, rest assured that Sasha Clinics will make you the best version for you.
Find the Top celebrity skin and Hair specialist in Hyderabad
Trusted by Tollywood's leading personalities for world-class treatments, Sasha is a one-stop solution for any aesthetic needs. 
Sasha Clinics is very proud of Dr. Sanjay and Dr. Navya for their dedication to providing the highest level of patient-focused care to all patients. We are grateful to have them at Sasha – Luxe Dermatology and Cosmetic Surgery Center. 
To learn more about the skin and hair conditions we treat, schedule an appointment online or call 9234569999.
Some best words from our beloved clients. It's always encouraging to know that our clients loved our services as it keeps us going even more enthusiastically

"I visited Sasha clinic for Tattoo removal. Dr Sanjay suggested to me Pico laser; the Results are really excellent. I could find much difference in only one session. Thanks, Sasha clinic ."
Venkat Reddy

"I have had hair fall problems for the last few months. I went to Sasha luxe clinic. I got a consultation with Dr. Sanjay Sakhamuri. He did a great job with my hair consultation. He suggested me mesotherapy and PRP. I just got it done in 3 sessions, and I love it. Even the ambience of the place is good. I definitely will visit again and will recommend it to my friends & family"
Vandana Pothireddy

"Dr.Sanjay is one of the best cosmetic surgeons in Hyderabad. He is skilled, and his hair transplant treatment results are excellent. He explained clearly the procedures before starting. Sasha's hospital staff are also very friendly and cooperative. Thank you Dr.Sanjay!"
Sai Gummadi